Stephanie Moosman, PA-C:

Stephanie Moosman is a board-certified Physician Assistant practicing in Phoenix, Arizona. She graduated from Arizona State University in 2011 with a Bachelor of Science in Kinesiology, and then Northern Arizona University in 2018 with a Master of Physician Assistant Studies. Stephanie is dedicated to helping her patients achieve improved quality of life through personalized treatment plans. She specializes in spine health, evaluating and treating a wide range of conditions, including neck pain, back pain, sciatic pain, herniated discs and scoliosis. She believes healthcare requires a team approach, with the patient being the most valuable player.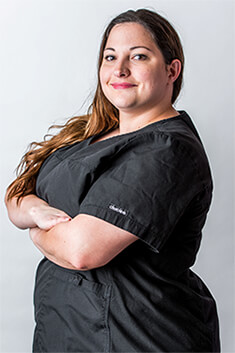 Michele Kassmeier, PA-C:
Michele Kassmeier is a Physician Assistant working alongside Dr. Baig assisting with spinal surgery, and sees patients in clinic. She evaluates patients with back and neck pain, provides valuable patient education, and helps develop an appropriate treatment plan. Additionally, she has experience as a PA in general orthopedics and orthopedic trauma. She graduated with her Master of Medical Science from Saint Louis University in 2017. Prior to becoming a PA, she received her Master of Public Health degree with a concentration in Epidemiology from the University of Nebraska Medical Center in 2012, and Bachelor of Science from the University of Nebraska in 2009. Ms. Kassmeier is a current member of the Arizona State Association of Physician Assistants, where she is on the CME committee, and a member of the American Academy of Physician Assistants.